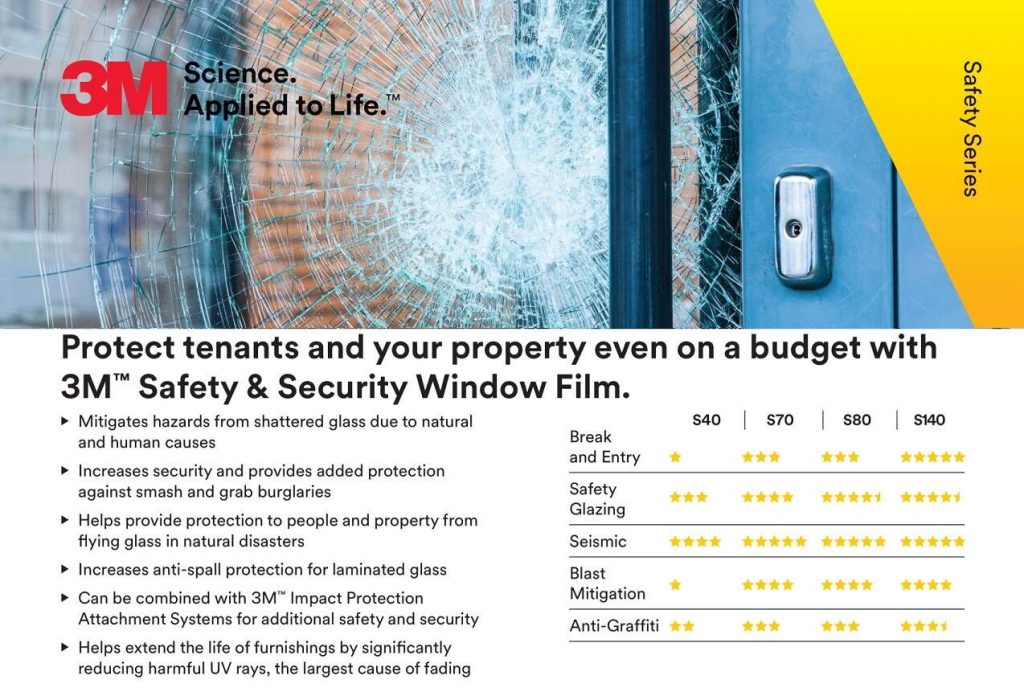 3M™ Safety Film Safety S80 is designed for use on the interior surface of windows. It is composed of a transparent and weather stable polyester film, scratch resistant surface and a strong acrylic adhesive. The films high tensile strength and elongation at break increases resistance of the glazing system to impact and pressure. The film also significantly reduces the transmission of UVA and UVB rays which are the main cause of fading.
3M™ Safety Films provide an effective protection from injuries to persons or damage to items caused the fragments of broken glass. In the case of glass breakage the fragments are held together by the strong acrylic adhesive.
3M™ Safety Film S 80 has been tested and approved according to EN 12600 (Pendulum test). It is classified as 1B1 on 4, 6 and 8 mm float glass.
Features (on 6 mm clear glass)
Total solar energy reduction: 21 %
G-value: 0.79
Reduction of Glare: 9 %
Reduction of UV rays: 98 %
Film properties
Thickness: 0.200 mm/ 200 µm
Colour: Clear
Material: Polyester
Adhesive: Pressure sensitive acrylic
Top coating: Scratch resistant hard coat
Installation
3M Window films are installed using a water and soap solution. Full adhesion is reached after approximately 20 days at 18°C (in dry conditions).
Cleaning
3M Window films may be cleaned 30 days after installation using ordinary window cleaning agents and avoiding the use of abrasive particles. Do not use rough sponges, cloths or brushes. Synthetic sponges, soft wipes or rubber squeegee cleaners are recommended.